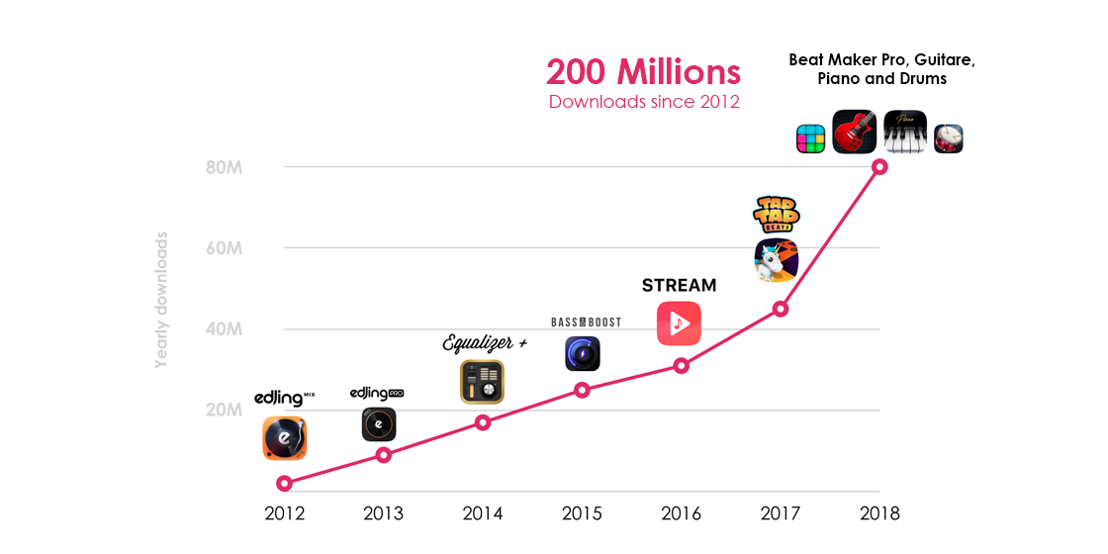 MWM reaches +200 million downloads and shows exponential growth
Thursday, October 18, 2018 — Paris, october 2018 - One year after having announced its 100 million downloads around the world, MWM unveils its latest results. The french music app editor has passed the symbolic threshold of 200 million downloads in 182 countries worldwide, thus becoming the world's number 5 music app publisher (App Annie ranking).
A wide range of music apps
It all started with the very first MWM app: edjing Mix. Launched in 2012, it rapidly became the world's 1st DJ app, and has since been voted "Best App of the Year" by both Apple and Google several years in a row. Building on this success MWM decides to enlarge its offer in 2014 with apps in the Music Gaming and Music Listening categories. In 2018, the company enters a new rising segment of the music market and simultaneously launches 4 Learning apps that teach users how to play the piano, the guitar, drums, and how to become a beat maker. A diversification strategy that has led MWM to exponentially increase its number of users and double its total download volume in a single year.
MWM becomes the 5th music app publisher in the world, #1st in France.
MWM now counts 12 apps in the main music categories: Production, Listening, Gaming and Learning, thus becoming one of the biggest music apps ecosystem in the world. The company is also proud to announce that it has become the #1st music app publisher in France, #5th worldwide. MWM relies on its exponential growth to make the step up to the top of the podium within the coming months.
Jean-Baptiste Hironde, Founder and CEO :

"We are very pleased to have reached this new record that makes MWM the new key actor in the music market. We are planning on accelerating our development projects to enter the very small group of French unicorns".